European Co-funded Projects
In recent years, the Covid-19 pandemic has accelerated globally the already existing developments concerning the digitization of important sectors of the economy. This transformation has decisively influenced all public and private organizations towards the adoption of a new division of labor, in which technology, in its various forms, takes on an increasingly pivotal role. At the same time, the recovery from the Covid-19 pandemic strategy — which remains a challenging issue for governments — must take into account the principles of sustainable development and social cohesion. In this field, the challenges that public administrations have to face are even greater as they need to make a significant "leap" for the digitization of their services and their synchronization with the requirements in the private sector. As shown by a recent study by the Observatory for Innovation in the Public Sector of the OECD, while the public sector plays a critical role in the implementation of policies for development and social cohesion, it simultaneously faces significant structural problems in empowering its executives to support of these policies. Specifically for Greece and according to another OECD study, Greece has embarked on an ambitious public sector digital transformation plan to achieve a more sustainable, insightful and people-centered public governance. However, there are still many implementation constraints that need to be addressed in a targeted manner .
According to a study by the World Economic Forum, a key area to address this gap is found in strengthening the skills of public sector executives. And while much of the global debate deals with the development of individual digital skills, a more holistic approach to reorganizing the public sector through systematic needs mapping and continuous skills development remains largely fragmented.
Also, according to the 'Complexity Insights' dashboard, for 2022 Greece ranks 6th in the world in terms of the complexity of the business environment mainly due to the complex macro-economic environment framework but also the lack of skills in the public sector and local government.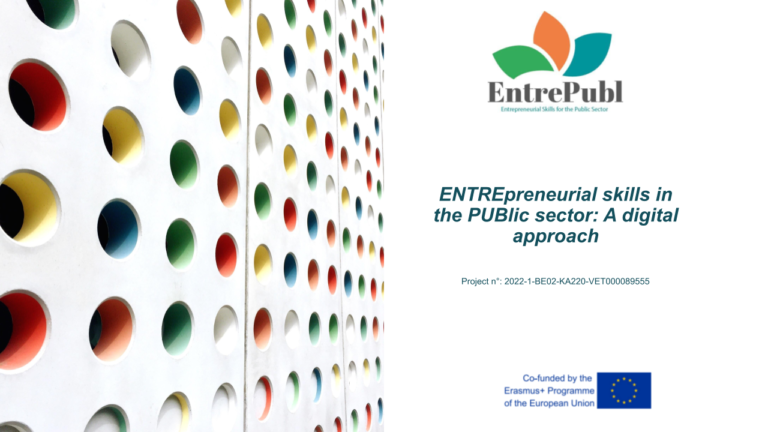 ENTREPUBL seeks to develop a comprehensive training path to enable public servants to think differently about their role in the organization, handling problems and challenges as potential opportunities while seeing themselves as active contributors to the institution they work, thus developing their 'sense of initiative and entrepreneurship' in their work. By supporting the development of an entrepreneurial mindset, public employees will be equipped with skills to work out of their 'silo' units, collaborate with others and identify potential interventions that can contribute to higher efficiency of everyday work.
Furthermore, focus will be given on practices to implement digital solutions that can improve the operational efficiency of public institutions. In order to achieve that, the project partners will engage VET trainers and VET providers, so as to design an educational package that meets the needs of public sector employees with regards to digital skills development focused on entrepreneurial learning to be offered by VET educators and in general trainers of public institutions.
ENTREPUBL assumes that being entrepreneurial is not a linear process, instead is a way of thinking, being and doing in everyday work-life and it is something that can be learned. By debunking myths that entrepreneurship education is only addressed to people who wish to start their own business, public employees will be empowered to alter their attitude towards entrepreneurial thinking and learn how to employ entrepreneurial actions to improve services offered to the citizens but also to advance their professional development.
In other words, the project sees an opportunity to create:
acceptance and encouragement of entrepreneurial mindset by the public sector employees

hybrid training to experiment, design thinking and scaling

an innovative VET product that can be utilized by VET trainers/providers of public employees

counseling provision for thinking out of the box and embed digital solutions

policy recommendation for adopting and providing entrepreneurial training in the public sector institutions

a certification scheme for VET trainers
In the context of ENTREPUBL, the EntreComp and the DigComp will be the reference frameworks to recognize the most important entrepreneurship skills that public servants need to acquire to change attitude towards entrepreneurship, develop new key capabilities and digital skills, and create value both for the institution they work and the general public. A hybrid educational programme will be developed to promote digital education among public employees and public institutions. Individuals, public employees, and VET trainers of public employees will benefit by improving digital skills and competences, whereas institutions, public & VET, will increase their capability and readiness to provide hybrid learning solutions. Moreover, given that the existing research focused on entrepreneurial employees is very scarce, nevertheless specifically for the public sector, ENTREPUBL seeks to contribute to the understanding of obstacles and challenges faced by public employees in developing an entrepreneurial mindset and develop a training methodology and tailor-made solutions to overcome such barriers. The ENTREPUBL model can be transferable to any public institution at local/regional level, creating a positive impact on the ways that public institutions operate to create social value for both employees and citizens and adopting digital education solutions. By engaging VET trainers and providers who work with public sector employees, it will ensure the use of the training path, increasing the project's impact and overall sustainability.
The project is funded by the Erasmus+ program and is supported by 8 partners active in the academic, business, non-profit and public sectors in the European area, namely Bantani Education (Project Coordinator), Academy of Entrepreneurship, C.O. Gruppo, T-HAP, SPW (Service Public de Wallonie), ICEP, Galaţi Municipality and Govhack.
Stay tuned for more information!